5 benefits of facial sheet masks
We all should wear masks. No, we are not talking about putting on that mask to please and impress others. Nor the 50 shades darker kind… unless you're of that persuasion *ahem*blush* We are talking about facial sheet masks which are chock-full of essences and serums that give your skin a huge dose of nutrients and moisture! With such a wide array of affordable sheet masks available in the market, should you pay a little more for a better quality mask? Yes, and with good reason. Some cheaper masks made with materials such as paper and cotton lack the ability to hold moisture hence precious essence will evaporate from the mask quickly. Sheet masks made from bio-cellulose fabric perform better than other sheet masks as they adhere snugly to your skin contour ensuring 100% ingredient penetration.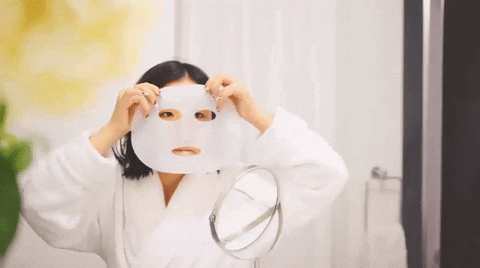 Just as important as the material of your mask is the ingredients it contains. While some people swear that putting on a facial sheet mask everyday can do wonders for your skin, we recommend that you read the ingredients properly and choose one that is suited for your skin type to get the results you desire. Here are 5 other benefits of applying facial sheet mask regularly:
Refines skin pores: Enlarged pores are pesky craters that collects dirt because it can. Applying a facial mask can help to refine your enlarged pores and clarify your complexion. A facial mask formulated for oily skin can help to clear congested pores superficially, slough away surface dead skin cells and  metabolic wastes as well as absorb excess sebum (oil).

Pic Cr 
Increases hydration: Never say no to hydration. Facial masks can also bring moisture and hydration to dry and dehydrated skin types. The water from the masks penetrates deep into the skin epidermis to soften the skin and enhance its elasticity. When the skin is hydrated and well moisturised, it becomes easy to apply proper makeup. Also, it gives a more plump and youthful appearance to the skin. You are one step closer to looking like your favourite Korean actress!

Pic Cr
Diminishes fine lines: Say goodbye to fine lines and wrinkles! Regular usage of facial masks with active anti-ageing ingredients can reduce the signs of ageing like fine lines, wrinkles, and brown age spots. Not only that, your skin feels softer and smoother.

Pic Cr
Evens out skin tone: Who needs to plough on foundation when you have an even skin tone? Regular usage of facial masks with brightening ingredients can rejuvenate your skin with a more even skin tone and texture. It also reduces the appearance of pigmentation, age spots and blemishes. It is definitely a fuss-free way for you to achieve a #nofilter, glowing complexion without any makeup on.
Firmer skin: Loose skin can make you look older than your age. There are certain types of facial masks that help to enhance collagen production and fight off free radical damage which will gradually result in firmer, tighter, fresher looking skin. Unlike pulp or fibre sheet masks, Estetica ést.lab VitaLift A+ Brillage Mask is a nano bio-cellulose sheet mask designed to nourish your skin in a potent and concentrated concoction of anti-ageing and brightening ingredients. A power-packed hydrator,  its three key actives – Repair Complex CLR™, Argireline and ActiSoothe™, work in unison to not only intensely moisturise the skin, but also plump up the face, firm the epidermis and reduce wrinkles. This power-packed mask is effective in slowing down the skin ageing process and also works to restore skin radiance. For optimal results, apply Estetica ést.lab VitaLift A+ Brillage Mask twice a week, 20 minutes each time.
Here is your chance to do good while looking good!  This festive season, Estetica is collaborating with Make-A-Wish-Foundation Singapore to fulfil the wishes of children with life-threatening illnesses. From now till 28th Feb 2018, Estetica has pledged all retail proceeds of the exclusive ést.lab VitaLift A+ Brillage Mask box set to grant these children's dreams come true. Estetica ést.lab VitaLift A+ Brillage Mask box set retails at $72 and the single sheet retails at $12 (Original Retail Price: $98/box of 6 sheets). Get yours now: www.esteticabeauty.com/mawf
---
Achieve a paw-fect complexion in time to usher in the Year of the Dog
CNY Promo 2018: Enjoy $88 Estetica Customised Facial with a complimentary Brightening Eye Treatment (U.P. $300). First 50 sign ups get one pack Estetica Facial Cleansing Wipes free!
CLICK HERE to sign up now!
---
In good hands,
Estetica